The Quick Pickup feature allows you to let customers collect their orders throughout your service, with live updates letting them know when their order is ready for collection.
The Merchant Dashboard now allows for Quick Pickup to be enabled, another collection feature for your venue.
To enable this function you first have to login into your Merchant Dashboard via the following link: www.partners.yoello.com

To activate the Quick Pickup feature:
Please access your
Yoello Dashboard
- Go to Settings
>
Order Settings
>
Collection Settings
>
Pickup Now
>
Toggle Enabled
>
Scroll down to Collection Points and click "
Add New Collection Point
"
>
Enter Collection Point Name and Max Number of Orders
>
Click "
Update Pickup Now Settings
" and now the feature should be enabled!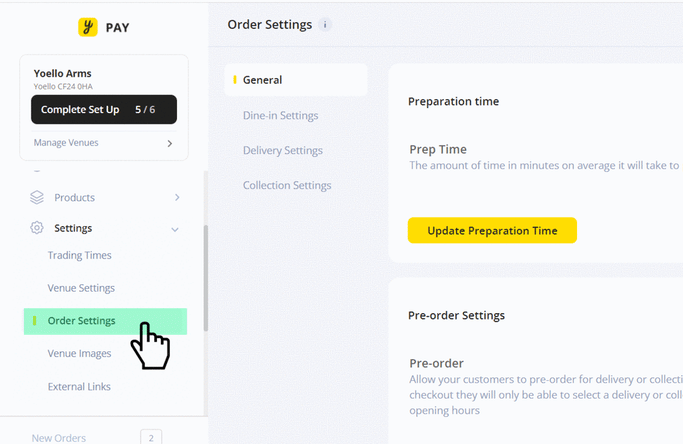 Please note: You can only have one type of collection service enabled at one time. You will need to manually alternate between Collection & Quick Pickup depending on your type of venue.
After enabling the Quick Pickup Feature you will then need to setup Collection Points. When setting up your collection points you can set the "Collection Point Name" & "Max Number of Orders"

Please Note: You can set an unlimited number of collection points for your venue and once the max number of orders has been reached for a collection point it will be reallocated automatically and if all collection points are full then the order will be added to a backlog.
Once you've added all relevant collection points and happy with the Names & Order limits for each collection point then click "Update Pickup Now Settings" and then Quick Pickup should be fully setup.
Please note the following:-
The Quick Pickup feature will appear on the venues front page where customers can choose which order type they would like.
If you are presented with a QR code for a finished order you will receive a warning message informing you that the order has already been completed.
If the customer goes to a collection point that the order is not registered with you will also receive another warning message mentioning the incorrect collection point (You may however choose to complete the order at that collection point).
Once orders are in a backlog you will be unable to see the details of the order and the orders won't move to "new" status until the orders in progress are marked as "Ready for Collection"
Any items ticked for "Collection" will appear as a Quick Pickup option.

Please see example below of how to feature works:-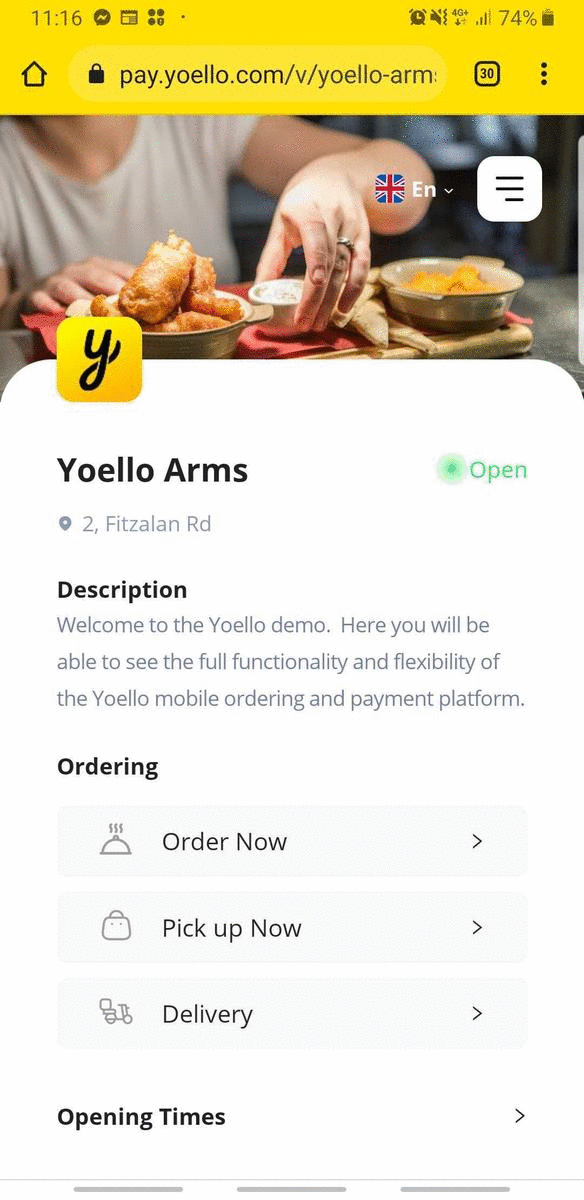 Please note: You will also need to enable Quick Pickup via your POS Terminal. The FAQ on how to enable Quick Pickup feature for the Merchant Dashboard: Here
Please Note: this feature is not available for Epos Now Order & Pay customers.