Learn how to create and organise your menu items.


For more information about setting up your items via Epos now click here
The items page allows you to view all the items that make up your menu.
You can search for an item by typing the Internal Name of the item into the search bar.
Alternatively, you can use the parent category (Food or Drink) drop-down selections to filter and view all items under a certain subcategory.
You can filter your view to only see items that are marked as 'in stock' or 'out of stock' by selecting the 'Filter' button and applying the relevant filter.
Creating a new Item
New Items can be created by selecting the 'Create New Product' button.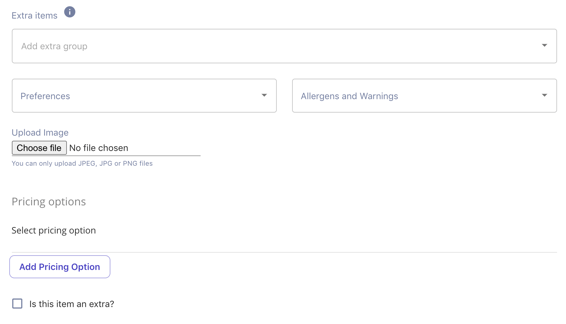 Main Item Pricing
Add the Option Name (e.g. Pint), Price and any Discount you want to apply for this item.
If you want to add more pricing options for this item (e.g. Half Pint) then you can do so by selecting 'Add Pricing Option'
The first pricing option in the list will be the pricing option that displays for your customers when they are viewing the menu items in the list view on the Yoello platform.
Is this Item an Extra?
An Extra Item is an item that is offered as an 'add on' item for another product. This can be either at no extra cost or can incur an additional fee. For example - a free slice of cheese to add to a burger or a mixer to add to a spirit.
An Extra Item can be a Main Menu Item sold individually as well as an Extra Item. For example, Coca Cola is sold as a Pint on the main menu but is also a mixer to add to a spirit.
Alternatively, an Extra Item can be an Extra Only Item that is not visible within the main menu and is only visible as an 'add on' to another product. For example, you want cheese to be an add on to a burger but you don't want cheese to be sold as a main menu item.
To set an item as an Extra Item & a Main Menu product:
Complete the Main Item Pricing with how you want the pricing to be displayed for the main menu item (instructions above)
Tick the box for 'is this item an extra?'
Select 'Add Extra Pricing Option
Complete the Pricing Name (e.g. Dash), Price and any Discount you want to apply for this item.
To set an item as an extra only item:
Leave main item pricing options blank
Tick the box for 'is this item an extra?'
Select 'Add Extra Pricing Option
Complete the Pricing Name (e.g. Slice), Price and any discount you want to apply for this item.
Once you've set up your extra item you will be able to add this item to an Extra Group. You can then attach that Extra Group to other items in order for the Extra Items to show up as add ons for your customers.
Fill out 'create new product' as usual, but ensure 'pricing options' remains blank.
Select the tickbox towards the bottom, "is this item an extra?" which will bring up more fields to be populated.
Continue to fill out the "Extra Pricing Options" fields.
If the menu item is both a menu item and an extra then fill out both pricing fields, i.e. Pint of
Lemonade = 200 (£2) and a Dash of Lemonade = 40 (40p). These options will then show in that format.
Once you've made your extra item you can add this to an extra group (see tab 5: Extras) and go into other products and attach that extra group to that product.

When done, click 'submit' at the bottom to save the item and add it as a live item into your Yoello platform.
Editing an Item
You can edit all item details at any time by clicking on the item you wish to edit. Ensure that you click 'submit' to save any changes you make.
You are able to use the toggle to mark an item as out of stock. If it is out of stock, this means it is not visible to customers and they won't be able to purchase the time until it is 're-enabled' and placed back into stock.
Reordering Items
You can change the order that items in subcategories on the Yoello web-app.
For example, you may want to amend the order of the list of wines to show the most expensive bottle of wine at the top of the list when being viewed by customers as a way of upselling this item.
Click and hold down on the three lines next to the item you want to move and simply drag it to the new location that you want it to appear.
The order that the items appear in the list here is how they will appear on the consumer web app.