This is a guide for the Merchant Dashboard on all the different settings for the Star mC-Print2.
Not set up your Star Printer yet? Please go to our Star Printer Setup Guide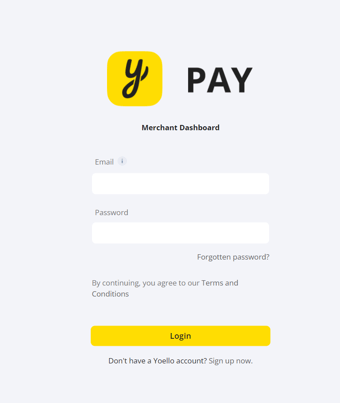 Firstly, you will need to log in to the Merchant Dashboard on partners.yoello.com.
From here, you will need to select the Settings option and then within that, the Printer Settings option.



Then click on the

button and a window will pop up.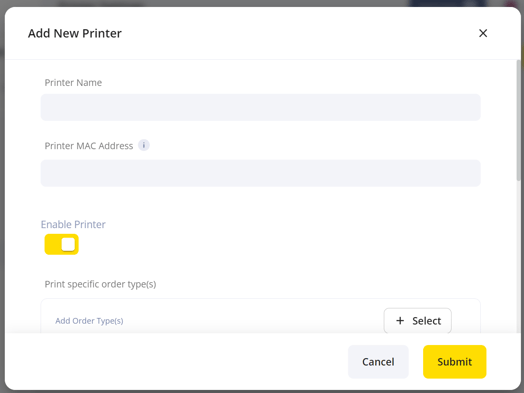 Here you will be able to name your printer, enter the printer's MAC address and also enable/disable the printer.
Tip: Name your printer something like 'Kitchen' or 'Bar' so you can quickly identify which printer prints which orders.
Note: To find the printer's MAC address, turn off the printer and then hold down the 'FEED' button on your printer until printing begins. The MAC address will be located on the 3rd ticket to print out titled 'Network Configuration'. The correct MAC address will be called 'MAC Addr (printer)' on the ticket.

You will then be able to set this particular printer off to only print certain things including
Specific order types (e.g. Dine-in, collection, delivery)
Specific venue areas (e.g. Inside, Outside, Balcony)
Specific collection points (e.g. if you have Quick Pick-up enabled)
Specific menus (e.g. If you have menus for drinks or food)
Specific subcategories
Please note: If you use any of the above filters, please make sure it's for the correct printer as orders can get lost if not filtered correctly!
If you require any further support with printer settings, please contact us on support@yoello.com, submit your query on this support contact form, or on the below phone numbers
GBR/IRL: +44 330 818 0264
USA/CAN: +1 (202) 773-4065
AUS/NZL: +61 (02) 6169 1532