Manage your venue trading times for each day and for each service.

Trading times allows you to set what times your business is open on each day of the week. Currently, these times will be applicable to all services - table service, collection and delivery. However, you can enable pre-order functionality via the 'order settings' page for orders to be placed outside of your hours to be collected or delivered within them.

Setting Up Your Trading Times
Input the Opening Time & Closing Time (24-hour clock) and select which days of the week these times apply to.
Each set of trading times needs to be allocated a 'Name'. This name is for internal use only and won't be displayed to your customers.
The trading time needs to be set to 'Active' to be applied to your venue and displayed to your customers within the 'Opening Times' on your venues landing page on the Yoello platform.
Adding Additional Trading Times
If you have different opening times for different days you will need to select the 'Add New' button. This will create a new set of trading times so that you can allocate the relevant days to the different times.
Customers will be able to see a comprehensive list of your trading times on the landing page of your Yoello platform.

Edit Trading Times
If you make any amendments to your trading times you will need to ensure that you select 'Save Changes' for the amendments to be applied.
On the consumer app, When open, a glowing green dot will be shown on the landing page of your Yoello platform.

If your venue is closed when a customer attempts to access the menu, a glowing red dot will be displayed and a pop up will appear at the top of the screen to enforce the fact you are shut and not taking orders.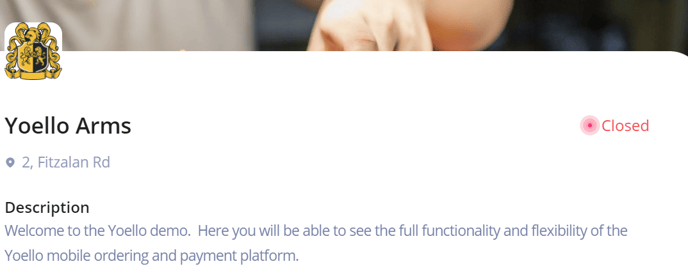 If you are open for pre-orders, customers will see a pop up that states 'available for pre-order only'.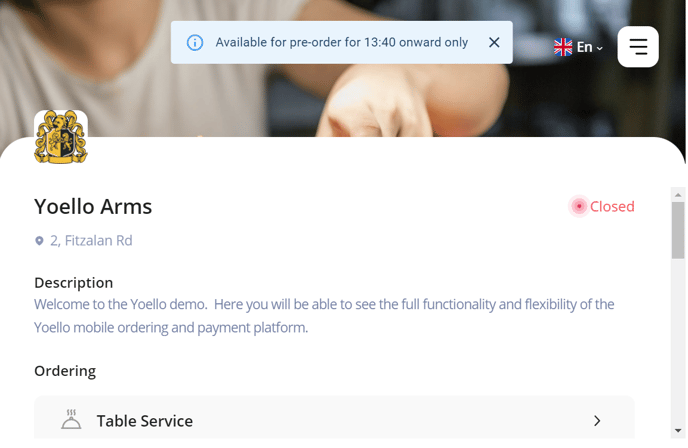 ---
If you require any further support, please contact us on support@yoello.com, submit your query on this support contact form, or on the below phone number.
GBR/IRL: +44 330 818 0264
USA/CAN: +1 (202) 773-4065
AUS/NZL: +61 (02) 6169 1532